German shepherds for sale
The German Shepherd is a breed of medium to large-sized working dog that originated in Germany. In the English language, the breed's officially recognized name is German Shepherd Dog (GSD). The breed was officially known as the Alsatian in the UK from after the First World War until 1977 when its name was changed back to German Shepherd.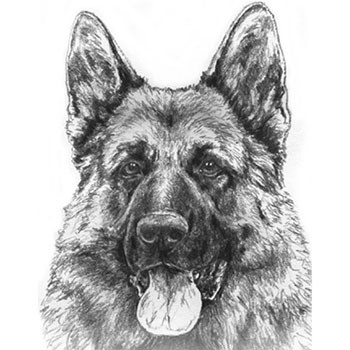 About Royal German Shepherds
We are Royal German Shepherd Kennels, a world renowned German Shepherd breeder offering registered German Shepherd litters of puppies for sale from high quality German Shepherd pedigrees.
Our main objective at Royal German Shepherd is to produce the best German Shepherd litters of puppies for sale in the world. Breeding top producing west German Sieger show Line German Shepherds is number one in producing quality German Shepherd puppies for sale.
Being a German Shepherd dog breeder requires breeding high quality German Shepherds from some of the top rated German Shepherds in Germany. As a German Shepherd breeder of German Shepherd puppies for sale, we strive to be consistent with the quality of our German Shepherd puppies for sale which means breeding with top rated German Shepherd breeding stock of some of the best German Shepherds in the world. Breeding quality German Shepherd puppies is our passion and we are committed to offering our clients excellent German Shepherd puppies for sale with a dedication to increasing the quality of puppies with each selective breeding.
Our pure bred German Shepherd puppies for sale are registered with the American Kennel Club and/or the SV in Germany. Our German Shepherd litters of Puppies for sale are excellent for families —good with children, adaptable to any environment. Our German Shepherd puppies have super character, rich black and red color and of course sound temperament. As a German Shepherd breeder, we are not like other German Shepherd Breeders, we breed world class German Shepherd dogs from west German Sieger show lines and adhere to the German SV Standards.
—The "Verein Fur Deutscher Schaferhund" –
Our German Shepherd puppies for sale are the product of breeding dogs with great temperament backed by elements like attentiveness, assertiveness, self confidence, courage, highly trainable, willingness to work whatever is desired on command. They are superior in health with parents being x-rayed with clear hips and elbows by the OFA or the SV. These German Shepherd litters of puppies for sale will make great companion dogs as well as excellent conformation, show and working dogs. Their inclination towards making their masters happy, their mental soundness and their high degree of intelligence have made this dog a successful working dog and masterpiece companion for their owners.
As a German Shepherd breeder, we strive to breed German Shepherd puppies for sale that will have rich black and red color along with excellent temperament and structure. We also breed our German Shepherd dogs to produce puppies for sale that are good for sport and show and excellent with families. Our German Shepherds puppies for sale are intelligent and eager to please their owners.
We specialize in German Shepherd litters of Puppies for sale for Family, companionship or working dosg and we can ship our German shepherd litters of puppies for sale and our German Shepherd adult dogs for sale worldwide. We are a German Shepherd breeder located in the great state of Illinois, United States.
Royal German Shepherd is a highly regarded German Shepherd Breeder and has German shepherd litters for sale all throughout the year. We are the best select German Shepherd breeders producing German Shepherd litters for sale for family, show, or companion dogs. Focusing on super character, rich black and red shepherds.
Royal German Shepherd is a German Shepherd breeder of pure bred German Shepherd puppies. We are the premier, select German Shepherd breeder in North America, producing strong, sound, healthy German Shepherd Puppies for family, show, or companion dogs. Focusing on super character, rich black and red German Shepherd puppies for sale.
We are German Shepherd Breeders and import German Shepherd Dogs for Sale. We breed, import and ship world-wide. #1 Breeder. Many of our dogs and puppies are imported directly from Germany from west German Shepherds breeding stock. Pedigrees and Progeny photos are available for viewing for each stud dog and breeding female. All shepherd puppies are home raised and socialized. Temperament of our dogs and puppies are unmatched by any other breeders. We sell only top quality puppies and provide the best written warranty for all sales. Our goal is your satisfaction with your puppy or dog. We have usually have several litters available.
We breed show quality Show Quality, for Family Protection, Personal Security, Schutzhund, Search & Rescue, Guard Dogs, Seeing Eye Dogs, Professional Dog Training, Stud Service and Pet Quality, K-9.
Available German Shepherds
We do all of the 'ruff' work – screening and vetting breeders!
Performing health checks and coordinating travel so you can focus on what really matters: welcoming home your new furry family member. All puppies purchased come with a health guarantee. Within 10 days of purchasing your new puppy, you must take him/her to a licensed veterinarian for an examination. If the veterinarian determines, within 10 days of purchase, that your dog is clinically ill or has died from an injury sustained or illness likely to have been contracted on or before the date of sale and delivery
OK, I am finally figuring out my phone. I did send a blank email
earlier by mistake.
He did well last night. He slept in his kennel downstairs with the
girls. They were soooo excited to meet him. They had tears. He doesn't
have a name yet-cant make up their minds. He loves to play with the
other two dogs. He is eating, drinking well. The girls are taking him
throughout the day in school here to meet their friends. All is great
here. Thanks again for the little guy and we will let you know his
name when they decide. There are two pics attached. Please let me know
if they came through or not.
Karen–Cincinnati, Ohio.
What Our Clients are Saying
Special thanks to all our wonderful buyers! We have to say that our farm has been blessed to have such a great bunch of people entering our lives
Thank you so much for my lovely german shepherd puppy 🙂 She is so fluffy, energic and so much beautiful! We call her Anie. She is only the second day with us and already became a family honey! She loves running in the garden with our second dog Jerry. Jerry is quite jealous of her, but I think they will become best of friends in a few days 🙂 I will send you more photos and videos in the evening With love,
Hi, just wanted to let you know that Ela is doing so good here. She
got to hang out with me and my wife for about an hour before bedtime,
and then she went to sleep in her new crate with no problems. Not a
single peep out of her all night. She was then greeted by the boys at
6:00 a.m. This morning, and loved them instantly! They have been
talking, petting, and playing toys with her all day. Thanks so much
for the wonderful pup, we just adore her. I have enclosed a couple of
pics for you, and will send some more again soon. Have a great day 🙂
Hi royal german shepherd Puppies,
My name is Hope, I bought two german shepherd puppies from you back in August
2019. I just wanted you to know that the have become an important part
of our family . The are very energetic and full of life we just love
our new puppies. They are growing in to their dog body. Moreover,
learning so many new things like how to eat my new shoes and how to
aggravate my other Pets, but all in all we love her and wouldn't trade
her for the world. I have included a picture of them. I will send you
updates regularly. Take care
Hope — Texas
The best Dog and Excellent Seller
If you are lucky enough to get a dog from royalgermanshepherd.com,
your life will be complete. Everyone has an opinion what a dog should
be, Home is your wish come true. My dog is very smart,
has a great personality and people who are afraid of dogs in my family
love this dog.  Royalgermanshepherd Home told me his dogs were bred for
personality and demeanor. This is true. The girls at the vets office
see dozens of dogs a day and they love this dog. He is big for a
puppy, house trained in two weeks and the most affectionate dog I have
ever had. I can not say enough how happy I am. I have been around dogs
my entire life and if you can get one of this line you will be lucky
and glad you made the right choice. I feel lucky and blessed and I
would not be any happier if I won the lottery.
Remy San Francisco,California